FLAT POLYESTER WEBBING SLNGS. (Single & Multi legs)
Powertex synthetic web slings offer a number of advantages for rigging purposes. The most commonly used synthetic web slings are made of nylon- or polyester-type yarns. They have the following properties in common:
Strength,
Convenience,
Load protection, and
Economy


Al Manar Eastern Factory Manufactures a wide verity of Powertex-Flat synthetic webbing slings according to BSEN 1492-1, ASME B 30.9-5 and WSTDA-WS1 with a Safety Factor of 5:1 to 8:1. Customers could choice custom length based on special requirements.
Types of webbing sling eyes
Type 1: Eye-eye webbing sling (EE)
These are most popular and more versatile sling.
Preferred types of soft eye formation are illustrated below
Type 2: Endless webbing sling (EN)
These are economical and adaptable sling with no fixed wear points.

Type 3: Fitting webbing sling with metal (EM)
Triangle & triangle
Triangle & choker
Multi Leg Webbing Slings
Safe Working Load Table Of Flat Polyester Slings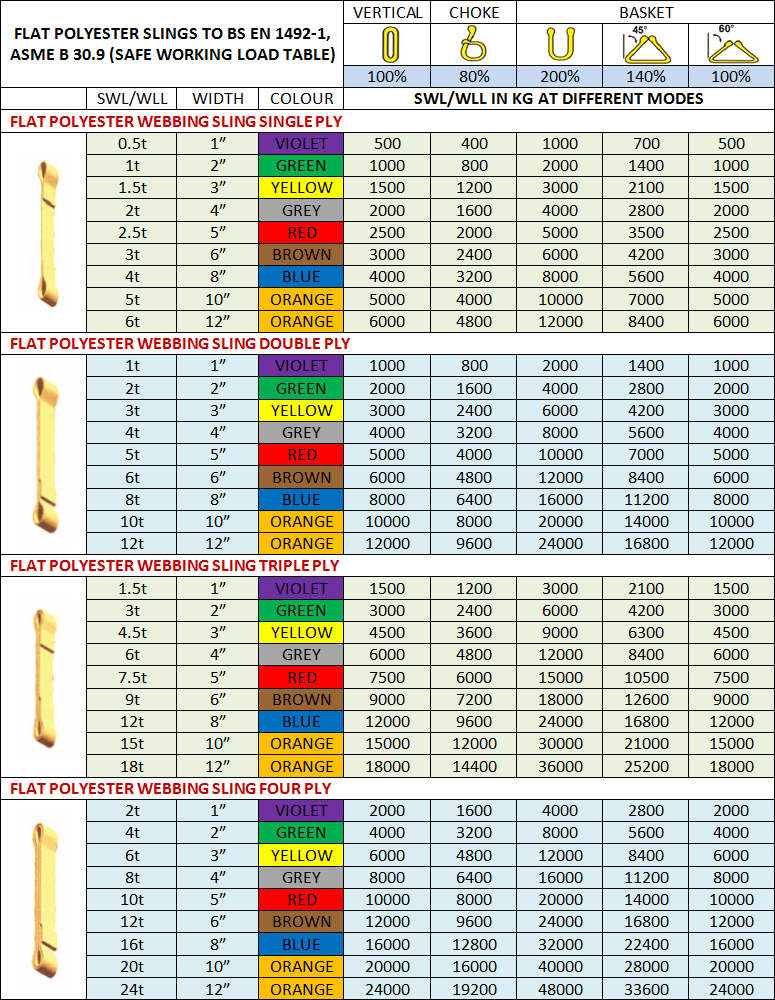 SPECIAL PURPOSE SLINGS & CARGO NETS
We manufacture a wide variety of special purpose tailor-made slings as per customer's specification and requirements. With years of experience we retained a pioneer position in manufacturing special slings like Boat lifting slings, Drum lifting slings, Pipe lifting slings, Reefer lifting slings, Stretcher lifting slings, Cargo nets, Extra wide slings, Three legged slings, Four legged slings etc.

We do the design and manufacturing of all kinds of special slings to consumer's requirements.
We expertise in Heavy duty extra wide slings.
Please check with us for your requirements.
CARGO LASHING BELT
With years of experience Al Manar Eastern Factory owned a top position in the manufacturing of cargo lashing belts. With the consistent efforts from our effective, efficient & experienced technical teams ensures to deliver the best quality cargo lashing belts in the market. We have a wide range of cargo lashings from 1" to 4" width and lashing capacities ranging from 400kg to 5000kg. The belt consists of two parts i.e. one short part and another long part. The tensioning device is provided on the short part (Fixed length).
Material: Polyester & Nylon
Safety factor: 2:1
Standard: BS EN 12195-2; AS/NZS 4380
Working length: As specified
Temperature range: -40⁰C – 100⁰C


Technical information