Standard ratchet type load binders (L-140)
• Upgraded for use with Grades70, 80 and 100 chains.
• Utilizes standard Crosby A-323 Alloy eye grab hooks.
• New design ΄΄one piece΄΄ forged handle.
• Continuous take – up feature provides finite adjustment to tie down load.
• One piece assembly, no bolts or nuts to loosen.
• Ratchet spring is rust proofed.
• All load bearing or holding parts forged.
• Easy operating positive ratchet.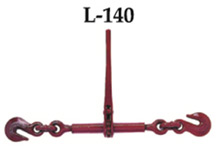 Standard lever type load binders (L-150)
• Extra heavy construction at leverage point to prevent spreading .Heel of binder toggles away from load, permitting easy release.
• Ball and socket swivel joints at hook assemblies permit a straight line pull